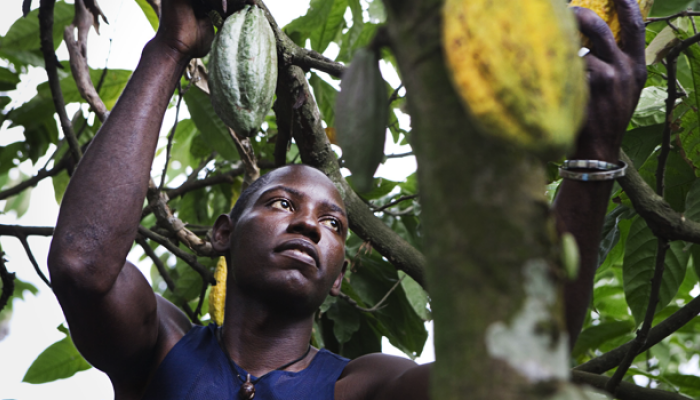 18 Feb

Fairtrade Fortnight 2019: the injustice at the heart of chocolate

The injustice at the heart of chocolate arises from mainly from the fact that historically cocoa is a highly volatile commodity, with many factors contributing to the unstable prices and boom-bust cycles which have significant consequences for those who depend on it for their livelihood.
As the world's largest cocoa producer, Côte d'Ivoire's weather patterns and volatile domestic politics can have a huge impact on the world cocoa industry. Favourable weather conditions in 2000 contributed to plentiful supplies and high global stocks which saw international prices slump to a 27-year low of $714 a tonne.
Moreover, while cocoa farmers have seen their incomes falling, the price we pay for or chocolate as remained steady which means the share the farmers receive is sliding down.
It is in this context that Fairtrade helps both to protect cocoa farmers and provide a sustainable supply of cocoa for the chocolate we love to eat. The minimum price paid to those who sell into the Fairtrade market protects more than 200, 000 farmers from a cruelly volatile market. The Fairtrade premium paid on top allows farmers to invest in new farming methods as well as in schools, healthcare, and infrastructure.
During Fairtrade Fortnight Keswick Fairtrade Campaign will be making people aware of the problems facing cocoa farmers and encouraging everyone to buy Fairtrade chocolate. There will be a Fairtrade Service at St. John's Church on Sunday March 3rd at 6pm at which two Fairtrade chocolate cakes will be shared out. All are welcome.