27 Sep

Three Peruvian Gold Miners on Nationwide Tour

27 September 2016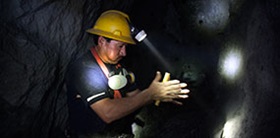 Three special guests from Peru will speak at events across the UK as part of a nationwide push tagged 'I DO' to stamp out practices that have tarnished the jewellery industry's reputation.
Fairtrade gold miner Roger Arcos Ponte from MACDESA gold mine, and Tatianna Vasquez and Dajhanna Zarate, beneficiaries of SOTRAMI mine, will address three Regional Campaigner Conferences in Bangor north Wales, Chippenham in Wiltshire and Leicester in the East Midlands (30 September – 9 October 2016). The conferences will be attended by leading activists from Fairtrade's passionate network of 10,000 local campaigners, including Towns, Schools, Universities and Faith Groups.
The mining representatives will explain to activists how the chunks of ore containing precious gold and silver help keep his community above the breadline.
The gold miners' speeches are designed to inspire, motivate and equip community networks to reach out to jewellers on their high street to ask them to sell Fairtrade Gold. They will also promote the buying of Fairtrade gold jewellery in their community as a way for everyone, no matter who they are, to use the power of their purchase to make a difference to lives of miners. Faith group campaigners will attend wedding fairs and church and community events across the UK to drive home their message.
Roger will tell how MACDESA consists of nearly 300 artisanal small scale miners who produce 25kg of metal every month. Alongside them there are 60 women who work at the site sorting through the tail end of the hard rock in search of gold hidden within them.  Working life is very hard at the MACDESA mine, with miners working in a shallow but greatly extended tunnel into the side of a mountain to find gold. Miners work 20 days on and 10 days off. For miners like Roger, what to us is a luxury product, is a lifeline to his entire community.
Tatianna and Dajhanna, visiting the UK to celebrate the 20th Birthday of pioneering jewellery brand Cred Jewellery's, are daughters of artisanal smallscale gold miners from SOTRAMI mine whose parents, like so many others during the 1980's economic crisis in Peru, relocated to the Atacama Desert in desperate search of work. Conditions were very tough for families in the Santa Filomena community, which is why their parents invested everything they have in educating their children and sending their daughters to university in the hope of giving them a better future.
They will say that it is only through sales of their gold on Fairtrade terms that the miners and their communities can reap the full reward of being Fairtrade certified. Fairtrade Gold is produced fairly and transparently and consumer support can provide her community with the chance to be paid a fair price, better working conditions and to build their futures by investing in social projects such as new schools and healthcare.
As part of the tour, the miner representatives will also speak at the annual UK Jewellery Conference, visit a traditional Welsh gold mine and attend events marking the 20th anniversary of brand Cred Jewellery.
Kevin McCullough, Head of Campaigns at the Fairtrade Foundation said: 'Gold: a symbol of love, power and wealth. Right? Look behind the glitz, and the reality is not so glamorous. Gold mining is one of the most dangerous, precarious, and unfairly treated jobs in the world.
'Fairtrade Gold stops exploitation. I can be traced from the mine through the refining process. This is backed up by documentation of all the transactions between miner and licensed jewellers. It means consumers and jewellers know that Fairtrade Gold comes from a socially and environmentally responsible, source which has economic benefits for miners.
'We all remember how the issue of exploitation by the jewellery industry made news headlines two years ago when one of the largest refineries in Dubai was exposed for laundering conflict gold. It later emerged that hundreds of millions of dollars' worth of suspect gold poured into the global markets including the UK.'
Events will be held across England Scotland and Wales this autumn to amplify the campaign in many of Fairtrade's network of over 600 Fairtrade Towns, 1,350 Fairtrade schools and 170 Fairtrade Universities, and 7,500 Fairtrade Places of Worship.
The Fairtrade Foundation's 'I DO' gold campaign, launched in 2015, and aims to generate $1 million in Fairtrade Premium for disadvantaged mining communities around the world. Fairtrade brings miners together to formalise what they do, improve working conditions and eliminate child labour. 'I DO' has already seen success in the UK, Germany and the Netherlands.